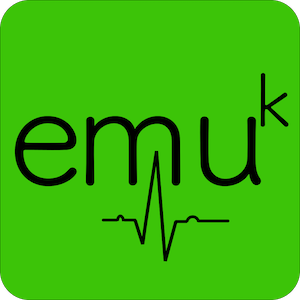 EMUK is the only emergency medicine calculator app designed specifically for the UK. It has been designed by an emergency physician to fit the fast-paced way in which emergency medicine is practiced.
We are constantly adding new content, but if there is a decision rule or conversion you think we should include you can let us know here: Request new content
From the home screen  select the decision rule you wish to access. If you are unsure which rule to use, the search box allows you to access the relevant decision rules by searching for the rule name, disease or symptoms. The full list of included rules can be accessed here.
New content is constantly being added, but if there is a decision rule you want us to include get in touch via the contact page.
INFORMATION FOR PATIENT MANAGEMENT​
Each rule is backed up with explanations of how it should be applied and how the results should  be interpreted.
Links to relevant publications are included as well as easy access to relevant national guidance such as that from NICE. You can be sure that you are using each rule to manage patients in the best way.